M.D.S. (Prosthodontics, Maxillofacial Prosthetics & Implantology) Director & Chief Dental Surgeon, DentXperts – Vashishth Advanced Dental & Implant Centre Reader, Department of Prosthodontics, B.R.S. Dental College & Hospital, Haryana, India M.I.S.M.R. (U.S.A.), M.I.S.O.I., M.I.P.S., M.C.G.D.P. (Singapore)
Dr Rahul Vashishth is a clinician, humanitarian and philanthropist par excellence. His passion and commitment towards perfection in work in commendable. With and experience of over a decade as clinician in government as well as private setups & over 6 years as academician, he creates a perfect balance between sound basic principles and clinically skilled training in his practice. Born to & raised by morally sound & humane values of government employed parents, Dr Rahul Vashishth worked hard & dedicatedly towards his love for dentistry to make his mark. He completed his graduation from Kurukshetra University & Post Graduation (M.D.S.) from CCS University during which he completed his dissertations on Anterior Implant Esthetics & Accuracy of Implant Impressions. He received several awards for his Scientific Papers, Poster Presentations and Clinical achievements during his Post Graduation training. He has numerous paper publications and a book publication titled "Anterior Implant Esthetics – Panoramic Coverage of Contributing Factors" to his credit. He is currently Life Member of Indian Society of Oral Implantologists (I.S.O.I.) & Indian Prosthodontic Society (I.P.S.). He has been a member of International Society of Maxillofacial Rehabilitation (U.S.A.). He has been elected for third tenure as Treasurer of Indian Dental Association, Mohali Branch. He is Founder Treasurer of Private Dental Practitioners Association, Panchkula, a registered body under Haryana Government. Apart for professional excellence, Dr Rahul Vashishth is equally ardent perfectionist in personal life. He makes it a priority to balance his work and quality family time. He is blessed with an adorable baby boy "Rudra" with beautiful wife Deepshikha Vashishth who is also the Hospital Manager & Digital Marketing Head of DentXperts. Dr Rahul Vashishth's brother Dr Gaurav Vashishth along with wife Dr Ravina Vashishth work as resident doctors in Kalpana Chawla Government Medical College & Hospital, Karnal and have a little angel "Laisha" in their life. He loves spending time with his mother & engages in family activities regularly. He has passion for home gardening and organic vegetables, outdoor sports like basketball & cricket, likes to read in free time. He is a food lover & loves to cook for family in spare time. He is fond of music and movies and connects himself with various social & philanthropic works in surrounding areas in tricity to contribute his part to the society. He has inculcated his vision & beliefs in daily practice at DentXperts and his team to promote humanity, values & lasting relationships with every patient or rather The DentXperts Family.
M.D.S. (Orthodontics & Dentofacial Orthopedics)
Dr Harsh Goyal is a renowned name in field of Orthodontics. He specializes in both Pediatric (child) as well as Adult orthodontics. He is very enthusiastic and energetic clinician ready to take up every challenge coming his way and delivers his best in every situation no matter what. He graduated from Kurukshetra University in Haryana and completed his specialization (M.D.S.) in Orthodontics & Dentofacial Orthopaedics from I.T.S. – CDSR under CCS University. He completed his dissertation on Surgical Orthodontics and Thesis on Ceramic Brackets & Esthetic Ligatures during his Post Graduation. He completed his training on Oral Implants and has a very successful Implant practice as well. Apart from his full fledged practice, he is a visiting consultant to many reputed dental establishments. Despite the hectic schedule, he makes sure of giving equal priority to his home. He has a sweet loving family and alongside his better half Dr Sheenu Goyal is completed by a beautiful baby girl Shranya. He loves to travel, eat, socialize and has a keen interest in functional mechanics and physics of almost everything.
M.D.S. (Conservative Dentistry & Endodontics)
Dr Sheenu Goyal is DentXperts' chief Endodontist and Conservative Dentist. She is a treasure of human being with a heart of gold. Her extraordinary compassion for humanity makes her a stand apart clinician. She completed her graduation from Baba Farid University, Punjab and Post Graduation from I.T.S. – CDSR in field of Conservative Dentistry and Endodontics with many awards and accolades to her name. Her dissertation on Ceramics in Endodontics has some very interesting insights for clinicians. Despite being a successful endodontist, she still has keen interest in updating and upgrading herself in the latest in field of dentistry and otherwise as well. She is exemplary with kids in terms of bonding, patience and connect she has with the little ones owing to love and warmth shared with her beautiful daughter Shranya. Being married to hard working and dedicated Dr Harsh Goyal, our Orthodontist, who has such a busy schedule, she manages to find time for her practice as well as the family. She is the binding force behind the family and also the workplace.
M.D.S. (Oral Medicine & Radiology)
Dr Munish Ghanghas is the key diagnostic arrow in the DentXperts arsenal. Diagnosis being the most important aspect of any medical / dental treatment, he has expanded out horizon to a panoramic level with his diagnostician skills and radiology expertise especially in uncommon or rare diseases & conditions. After graduating from Kurukshetra University, he pursued his Post Graduation from Pt. B.D. Sharma University of Health Sciences, Rohtak in Oral Medicine & Radiology. He has an academic as well as clinical experience of 6+years. He specializes in Cone Beam Computed tomography (C.B.C.T.) & C.T. Scan evaluations. His better half is also a very skilled clinician with post graduation in Endodontics and recently became a proud father of an adorable baby girl. His hobbies include music, travel and relaxation activities with family and friends.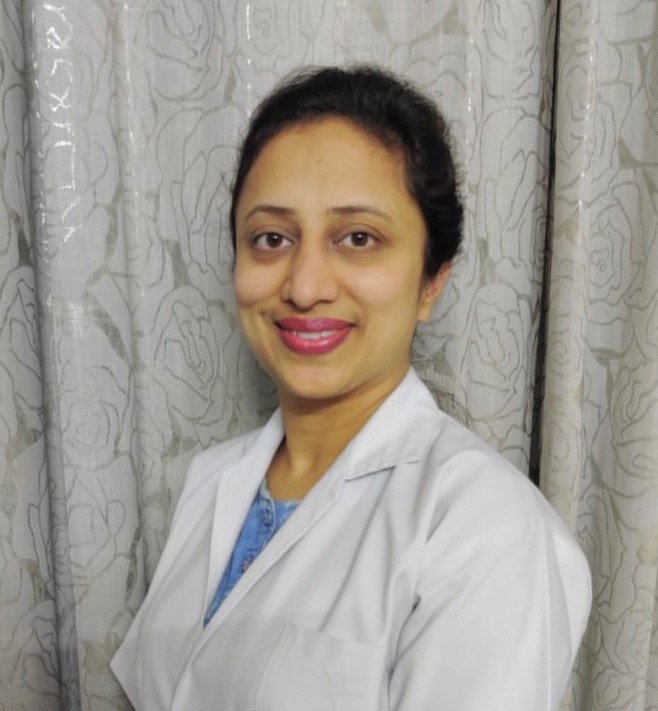 Dr. Shina Goyal is an extraordinary oral surgeon with Midas touch. Her clinician finesse is only superseded by her passion for perfection and constant upgradation in her skills to be the best. She completed her graduation from Government Dental College, Patiala and Masters (M.D.S.) in Oral Surgery from MM University, Haryana. She specializes in Orthognathic Surgeries, Bone Augmentation, Soft tissue augmentations, Sinus Lifts, Zygomatic Implants, Trauma Cases and many more. She is a hard worker striving to be best at not just her professional side but personal life too. Along with constant and ever ready support from her husband, Dr. Neeraj Mittal, a renowned Pathologist who himself is very busy throughout the day, they have raised two handsome & charming young boys Ishan & Shreyan. She is an integral part of surgical and Implantology team and has been instrumental in DentXperts' success all the way.
Kalim is dedicated, hard-working and energetic and is an asset to the centre.
She is dedicated, hard-working and manages the operatory protocols meticulously and is an asset to the centre.