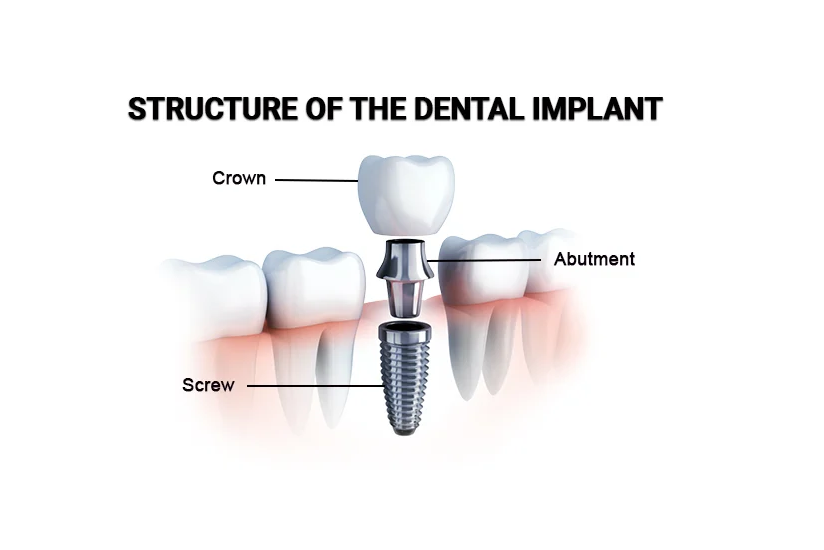 Teeth are an integral part of your body. We say it because losing a tooth is not a health issue but also an issue of self-esteem. Having a tooth missing in the front seems bizarre while smiling. Same goes to back tooth as every time you eat, you are reminded of the damage. For this reason, many say replacement of teeth is not a choice but a requirement. You can get your self-esteem back with a Dental Implant.
So what is Dental Implant?
Imagine you lost a tooth, now an artificial tooth is replacing it. But it can't connect with your natural set of teeth as it is. I require a tiny titanium alloy screw which is surgically placed in your jawbone. It helps connect with your natural set of teeth. This process of placing the screw is known as Dental Implant.
This process works for any dental prosthesis as well. It is the closest you can get to a natural tooth. It allows you to smile, eat, talk, and do other daily activities with confidence. Hence, we can safely say this is the best and efficient way to get your tooth back.
Why is it crucial for you?
Apart from your self-esteem, there are a lot of reasons why you should go for a dental implant, and a few are listed below:
Appearance: If you don't have the full set of teeth, you are often subjected to jokes everywhere. In varying degrees, everyone gets affected by it as it concerns their appearance. Many might even think that they miss out on a date or promotion due to their missing tooth. Although this might not be the truth, but you can't lose your confidence over such a thing.
Oral Health: Our teeth are well designed, and even losing a single tooth can disturb our dental structure. The gab due to the missing tooth gives others the chance to tilt and shift. This can happen even due to regular chewing. This could lead to many oral problems in the future. Many people lose multiple teeth due to this.
The Comfort: Most of us has the perfect set of teeth, however, even a single crack appear. It gives us a lot of trouble. Our tongue involuntary reaches to it, food get stuck in the exposed area. This trouble can increase if we have a damaged or missing part of the teeth. This isn't a comforting experience at all.
As we can see, missing teeth is a big underlying problem which we only realize when we suffer from. Hence, if you don't want to prolong this suffering, we suggest you go for Dental implant.
We, here at Vashishth Advanced Dental and Implant Centre, provide you with dental service. Our motto is to strive for customer satisfaction and Excellent care. Do visit us if you are looking for a dental Implant.